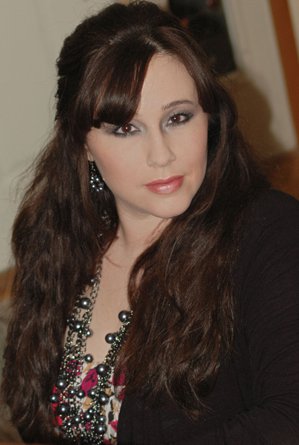 Angie Cavaiuolo is the owner, founder, mixologist and CES (Chief Executive of Sassy) of Sassy Pants Polish, a new Indie Polish brand founded in Onalaska, Wisconsin in 2015.
Angie has always been one of those crafty types. Since childhood, she was always making something from crochet to needle-point to jewelry making, papercrafting, well, pretty much - you name it. And she usually had a tendency to go overboard. She had her eye on soapmaking and became hooked (and expectedly obsessed) after her cousin had made some glycerin soaps for her for Christmas. Before long, Natural Beauty Soaps was born in 2001 which quickly became Handmade Natural Beauty to better reflect the evolution of the soapmaking obsession to balms, lotions, salts, etc. Over the next decade an a half, the bath and body line grew to include more of everything, plus cosmetics and candles.
Then in 2015 after being introduced to the world of Indie Polish and finally taking the time to paint her beat up soapmaking nails, a new passion began. One of color, mixology and creativity. And keeping with her love of high quality, safer alternative products, she decided to make her line 5-free. This means potentially harmful ingredients found in mainstream polishes including toulene, dibutyl phthalate (DBT), formaldehyde, formaldehyde resin and camphor are not found in Sassy Pants Polish. Sassy Pants Polish is also proudly a cruelty-free company.
Now she very easily could've just added the polish line to HNB, but she thought, wouldn't it be more fun to give it its own identity? She wanted something bold, fun, fashion-forward, and sassy. Then it hit her, Sassy Pants Polish! The debut collection features different qualities or complements to the fun-loving bold Sassy Pants woman. Future collections will feature a particular inspiration around a woman befitting of the Sassy Pants name. She hopes you enjoy the inspiration as well as the colors and leaves you with this message..."Find your sassy and don't leave home without your Sassy Pants!"