Posted by Angie Cavaiuolo, CES (Chief Executive of Sassy) on Nov 24th 2015
The second collection which is my Holiday Collection was so much fun to create. It started out when I created a gorgeous red jelly with holographic glitters and showed it to my mom. She exclaimed "Ruby Slippers!" and the inspiration for the collection was born! And the best part... these are all perfectly wearable festive holiday colors!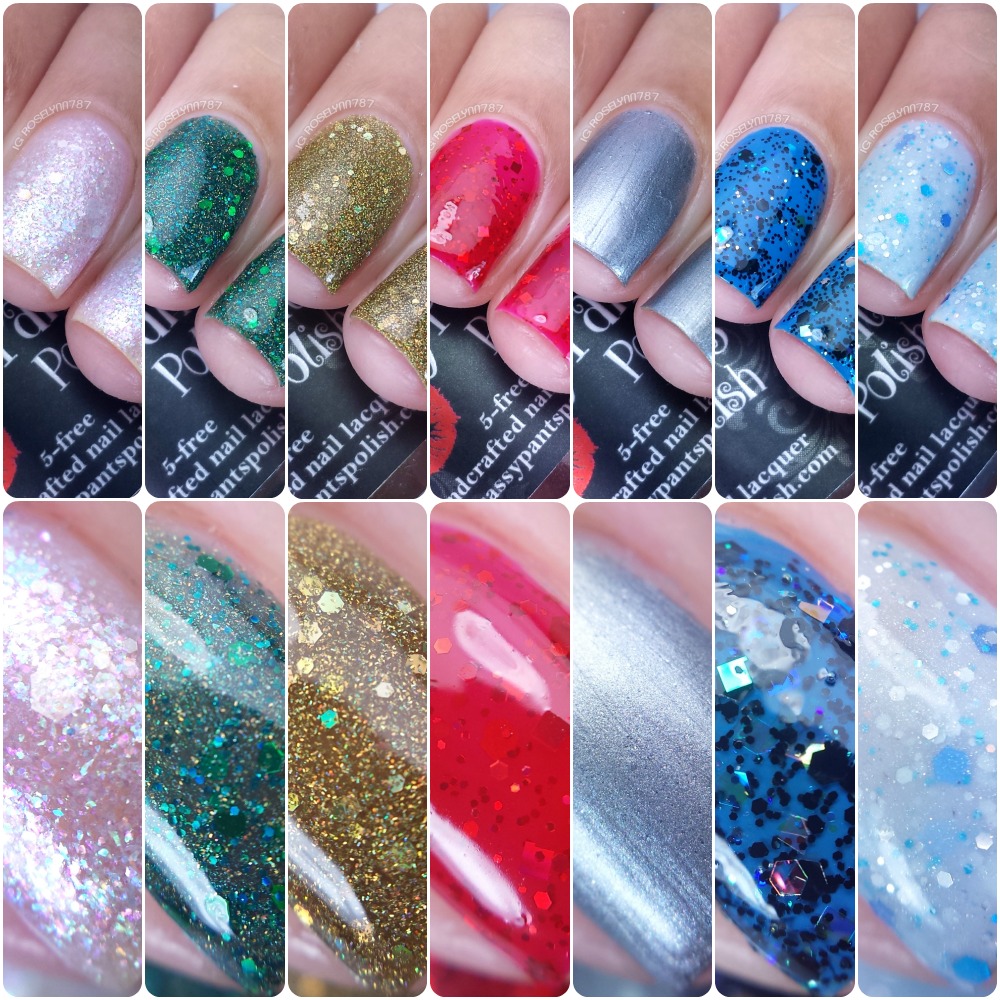 Starting left to right…
1.Good Witch: an opalescent glitter polish with various sizes and shapes of white/opal glitters. Can be worn alone, over white or any color of your choice. "Are you a good witch or a bad witch? Brings the beauty and light of Glenda the Good Witch to any manicure."
2.Emerald City: an emerald green jelly base with gold and green microglitter pigment and emerald holo hex glitter. "L. Frank Baum stated that the Emerald City is the most dazzling place on earth. Now you can be just that dazzling!"
3.Yellow Brick Road: a holographic gold base packed with various sizes of gold holographic hex glitter. Exquisitly festive. "Follow the yellow brick road! Wear this one and he just may follow you anywhere!"
4.Ruby Slippers: a red jelly base featuring red holographic hex and square glitters. "While there may be no place like home, you'll want to be wearing this at your holiday party!"
5.Tin Man: the only polish in the collection without glitter, this is a beautiful metallic silver, looks amazing alone or as a base for just about any of the others in the collection. "I'd be tender, I'd be gentle… and awful sentimental… if I only had a heart."
6.Bad Witch: a clear base glitter topper with black micro glitter as well as black and opal hex glitter. Can be worn over virtually any color. Looks especially fetching over Tin Man. "Because just like the Wicked Witch of the West, sometimes you just have to release the flying monkeys!"
7.Dorothy: inspired by Dorothy's signature blue and white dress, this is a pale blue base crelly with a multitude of different sizes and colors of silver and blue glitters. "Aunt Em, Hate you. Hate Kansas. Taking the dog. ~Dorothy" ~ suggestive that there is just a bit more to the story and to Dorothy's demure nature.
Each polish is available in a full-size, 15ml bottle for $10 each as well as a mini, 5ml bottle for $6. The complete full-size collection is $60 (Save $10) and the complete mini-size collection is $39 (Save $3). For a limited time, I'm also offering FREE (U.S.) SHIPPING with any order of $50 or more.
Officially released 11/10/15. Check reviews page for blog excerpts and links to full collection reviews.