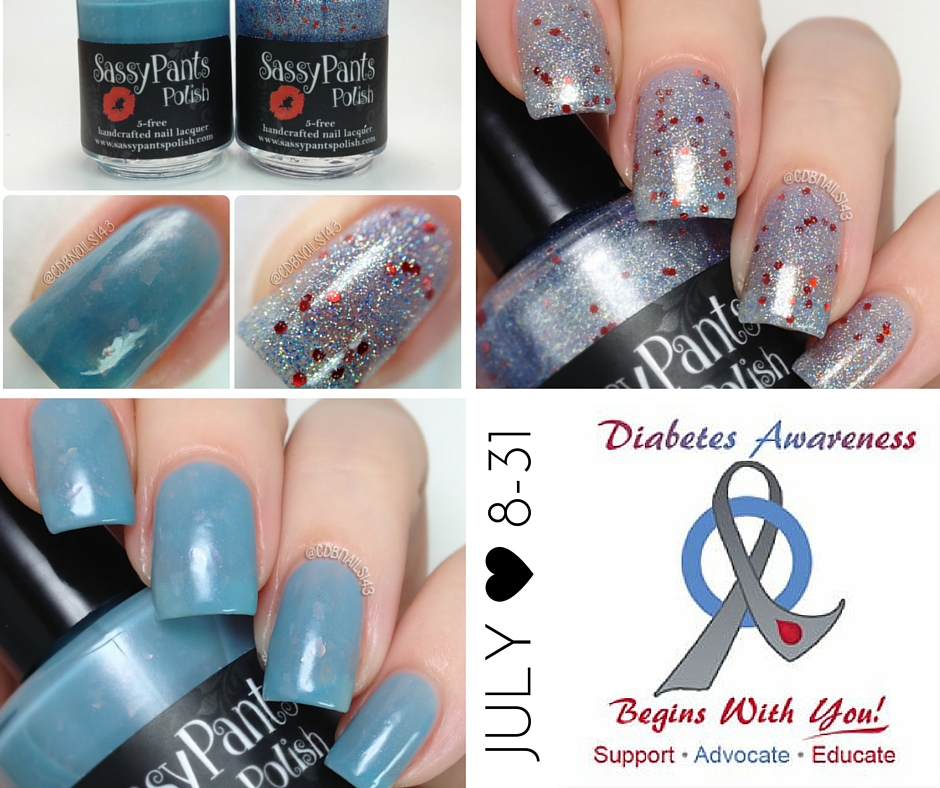 I was absolutely honored to partner with Crystal for this worthy cause that is close to both of our hearts, as diabetes runs in both of our families. Here is the information regarding our collaboration to support diabetes research...
July 2016 Fundraiser - The Diabetes Association
CRYSTAL WEBER
MONDAY, JUNE 27, 2016
Hello everyone!
With a new month comes a new fundraiser and another new brand to the Crystal's Charity Lacquers family! For the month of July, I am excited to announce we will be working with Sassy Pants Polish to raise money for diabetes research!
First, let's introduce our newest brand! Sassy Pants Polish is lovingly created by brand owner, founder and mixologist, Angie. Angie has always been creative, right from childhood. She began her handmade career making soaps and launched her bath and body shop, Handmade Natural Beauty in 2001. In 2015, she was introduced to the world of indie nail polish and a new passion began. Instead of added her polish line to her existing shop, she felt it would be more fun to give her new product it's own identity. She wanted a bold name that was fashion forward and sassy...Sassy Pants Polish! And so the brand was born!
Sassy Pants Polish is proudly cruelty free as well as big 5 free. There is no toulene, dibutyl phthalate (DBT), formaldehyde, formaldehyde resin or camphor in her polishes.
For July, Angie has created two custom polishes for our group. A portion of every sale of these special polish for a cause will be donated to the Diabetes Association for diabetes research. Diabetes is a cause that is close to both of us. It is a disease that runs in her family and it is a disease that my father in law lives with everyday.
About Diabetes: Diabetes is a far too common disease, and chances are, we each know someone who is diabetic. Diabetes is a chronic disease in which the body either cannot produce insulin or cannot properly use the insulin it produces. Insulin is a hormone that controls the amount of glucose (sugar) in our blood. Diabetes leads to high blood sugar levels, which can damage organs, blood vessels and nerves.
Our body needs insulin to use sugar as an energy source. In the healthy body, when blood sugar levels get too high, special cells in the pancreas (called beta cells) release insulin. Insulin causes cells to take in sugar to use as energy or to store as fat. This causes blood sugar levels to go back down.
Type 1 diabetes occurs when the immune system mistakenly attacks and kills the beta cells of the pancreas. No, or very little, insulin is released into the body. As a result, sugar builds up in the blood instead of being used as energy. About five to 10 per cent of people with diabetes have type 1 diabetes. Type 1 diabetes generally develops in childhood or adolescence, but can develop in adulthood. Type 1 diabetes is always treated with insulin.
Type 2 diabetes occurs when the body can't properly use the insulin that is released (called insulin insensitivity) or does not make enough insulin. As a result, sugar builds up in the blood instead of being used as energy. About 90 per cent of people with diabetes have type 2 diabetes. Type 2 diabetes more often develops in adults, but children can be affected. Depending on the severity of type 2 diabetes, it may be managed through physical activity and meal planning, or may also require medications and/or insulin to control blood sugar more effectively.
The Polish:
Our first polish is named for our sugar alternative of choice and is also a shout out to my father in law and Angie's father, who are both diabetic. It's 'Splendad"! Splendad is a blue crelly with iridescent red flakes and red sparks.
Our second polish is a fun partner for Splendad or can be used on its own and is also inspired by our cause. It's "Practice Safe Sugar"! Practice Safe Sugar is a sparkly holographic microglitter with blue microflakies and medium red metallic hex glitters.
Splendad and Practice Safe Sugar will go on sale on Friday, July 8th at 4 pm CST (2 pm PST, 5 pm EST) and will be available until Sunday, July 31st only!! After the sale window closes, these polish will be gone for good! These polish are a pre order. Shipping will be done in two waves. Orders received until July 15th will be shipped on the 16th. Any orders placed between July 16th and 31st will be shipped on August 1st. These polish will be available individually for $13 per bottle. Angie has also generously offered to donate 15% of the sale of any other Sassy Pants Polish (excluding polish collaborations with other brands) included in the same order as one or both of our customs, to the Diabetes Association! This is the perfect time to pick up any other Sassy Pants Polish colours you've been eyeing, along with our customs! To purchase, please visit sassypantspolish.com
Attention Canadian members! Angie is aware of our looming Canada Post strike and will hold any Canadian orders and packages until the strike has resolved. Thank you Angie!!
After the sale has ended and Angie has had a chance to total up the sales, I will make the donation and post the receipt to our group wall. If you have any questions, please do not hesitate to ask!!
Thank you so much to Sassy Pants Polish for creating these wonderful polish for us and for your generosity and to each and every one of you for your continued support!
Reviews:
CDBNails : http://www.cdbnails.com/2016/07/sas...
Manicured and Marvelous: http://www.manicuredandmarvelous.com/...